Mime Adventures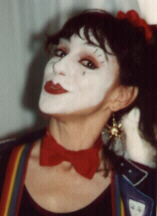 Most frequently asked question; "Can you REALLY talk?"
?
I made my mime debut at the Star Wash Car Wash in Shaker Hts., Ohio. ( A Star is born!)

It Was either performing mime or wearing a chicken suit. I opted for the clowning. Since that fateful day I have performed mime at special events, theaters, museums, schools, festivals and more.
The Cleveland Bicentennial Celebration was a memorable event as was the 100th birthday party for the founder of the Crawford Auto Museum.
Below is a photo taken at an elementary school. I drew the picture on the chalkboard with both hands at the same time.
Click on image to view an enlargement

Copyright 1998, Jan LeComte The Empress' garden